Since the kids were little, I have been decorating their bathroom for Christmas. I switch out the shower curtain, towels, and décor. This year, when I took down Christmas, it dawned on me to decorate for
Valentines day… Duh!
Here is a picture of the "Christmas" bathroom…
I have a white waffle weave shower curtain with a variety of red and white ribbons in place of curtain rings. I then hang the red snowflake drops. The Santas belonged to my grandmother and aunt before they passed. Add some Christmas scented had soap, a red towel and bath mat, a few candles and voila, some Christmas fun in the bathroom!
Now here is the Valentine Bathroom…
I made a "Love" bunting out of drop cloth left overs and more of the red and white ribbon. I cut the letters out of outdoor vinyl with my trusty Silhouette. Ironed the back of the bunting and in no time at all, I had the "Love" bunting! (Maybe I should have ironed the curtain too!)
I left the red towel & bath mat. Brought in the heart wreath I made last year, cast iron mold of hearts, and other various heart décor.
Finally I pulled out a small canvas, traced a heart and preceded to hot glue red, purple, pink and white buttons on the canvas. Lovely, don't you think? And wouldn't you know, I didn't spend a dime! Everything I used to decorate with, and the crafts I made were all from things on hand! Lovely and thrifty!
Make it a great day, or not. The choice is Yours!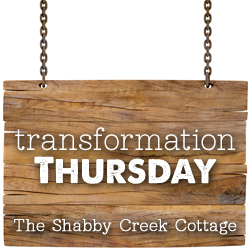 http://www.jenniferrizzo.com