Hippity-Hoppity
Easter's on Its Way!
Ok I know I am a little ahead of the game…. But Valentine's Day snuck up on me and I didn't get my projects posted.

SOOOOO,

let me show you what is in store for Easter!
My Friend and coworker Lesley over at Saving Grace is debating whether or not to have a booth at Round Top. She is worried about the logistics of covering the booth and having plenty of wares to peddle. I want to help any way possible because I want to see her succeed! Her dream is to devote herself full time to Saving Grace. We would miss her terribly, but I know the power of dreams. I also believe that God will grant us the desires of our heart.
So what can I do to help? I started by taking a trip to Goodwill. I noticed the plethora of white wicker baskets for WAY cheap and had an idea!
After my eldest was born, I was sitting at home watching Martha Stewart and she was dying Easter baskets. True to Martha style, they were beautiful! So for Easter, I made my daughter a basket. So long are the days of the cheap

WalMart

plastic Easter baskets! Now I am on a mission, to help Lesley and to make sure all the little ones in my life have beautiful baskets!
white wicker basket, Rit dye, BIG bucket HOT water, salt, wood excelsior (grass), coordinating ribbon
Make sure the bucket is large enough for the baskets to be emersed. If not completely emersed, the baskets have to be stirred every 10 minutes or so... ( I used big kitchen tongs to flip and stir)
Poor in the dye, salt and fill with HOT water
These baskets soaked for several hours to fet the bright fusia color
My next set of baskets will be made using denim blue dye and I want to dye the excelsior yellow so its not too matchy matchy. And I just heard,
Saving Grace
WILL be at Round Top in March! WooHoo!
Y'all have a blessed week!

Linked to: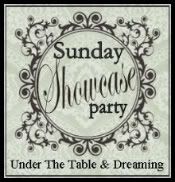 Censtational Girl